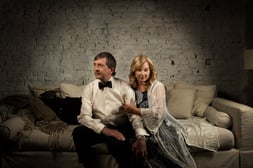 "Alleluia, Christ is Born!" by Alabaster Grace
Story Behind the Song:
On a cold morning, upon reflecting on the birth of Jesus, a moving melody emerged with simply the words, "Alleluia, Christ is born." These words were soon to become the chorus of a song that declares the birth, death, and resurrection of our Lord Jesus Christ. Reminiscent of "O Come, O Come Emmanuel," this song has a very contemplative and calming feel. The bridge offers a hopeful plea, "Holy Child, shine on us." The arrangement is set with Joanie's voice and Brad's classically influenced acoustic guitar. The first Christmas song for Alabaster Grace, this song is sure to ring in the minds of listeners reflecting the essential message, "Alleluia, Christ is born and that He is Lord!"
Corey Pavlosky, founder of Pipe Dream Studios, served as the producer and recording engineer for "Alleluia, Christ is Born!" He worked diligently with Joanie and Brad to create the tender acoustic rendering for this special Christmas song. Corey says, "Working with Alabaster Grace was a pleasure from beginning to end, keeping the authentic and guitar-centered presence of the song while enhancing it with orchestral instruments. It was a blast working together as a team on this beautiful song!"
Scripture References:
Matthew 1:23 NIV - "The virgin will conceive and give birth to a son, and they will call him Immanuel" (which means "God with us").
Romans 6:23 ESV- For the wages of sin is death, but the free gift of God is eternal life in Christ Jesus our Lord.
YouTube Link:
Explore More...