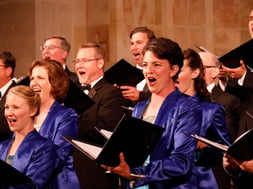 "Go Tell It On the Mountain"
by Gloriae Dei Cantores
Christmas is the Season of HOPE and LIGHT!
Go Tell it On the Mountain that JESUS CHRIST is BORN!
"Go Tell It on the Mountain" is an African-American spiritual song, compiled by John Wesley Work Jr., dating back to at least 1865. This beloved Christmas carol celebrates the Nativity of Jesus.
Christmas evokes many responses: the delight of a treasured gift, the warmth of friendships, the chance to sing and dance, or special times of worship. Gloriae Dei Cantores invites you to celebrate these moments with Go Tell it on The Mountain from one of their many popular Christmas albums, Be Merry! a collection of new and well-known carols that joyfully revel in and quietly reflect upon the heritage we share with millions around the world: the gift of Jesus Christ, born in Bethlehem.
Each year at Christmas, Gloriae Dei Cantores celebrates the "dawn of redeeming grace" with a traditional candlelit Service of Readings and Carols, retelling the stories of Christ's birth that fill us with HOPE. Join them Livestream on November 26 at 4:30 EST (Organ Prelude at 3:30). Visit gdcrecordings.com to learn more and to browse their complete collection of Christmas albums.
Gloriae Dei Cantores also shares a Musical Advent Calendar on their website every year with music for you every day of Advent – December 1-25. Visit gdcrecordings.com to learn more and add your email address to have the music delivered to your inbox daily during Advent.
Christmas is the Season of HOPE and LIGHT!
With prayers and blessings for you and those you love this CHRISTMAS.
Explore More...